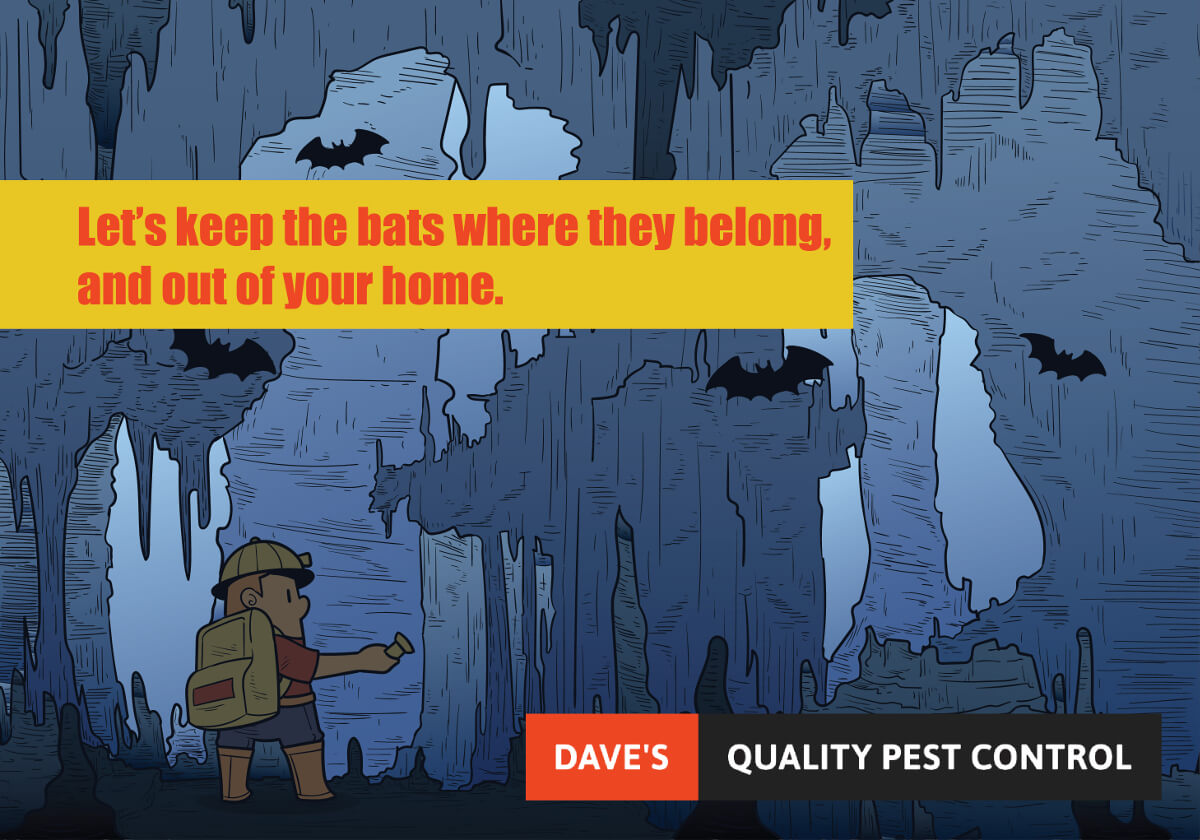 Winter can be a common time for at home pests due to many animals seeking warmth and food inside the home.
A fascinating but pesky pest, bats (particularly the Big Brown Bat and Red Bat in Ontario) are especially familiar with seeking shelter from the cold.
To help keep you and the bats safe, here is all you need to know about bat pest control in the winter:
What Do Bats Do in the Winter?
All bats are very sensitive to temperature changes and there are not enough bugs to consume in the winter, therefore, those in the Kawartha area are obligated to either fly to Collingwood or Warsaw to hibernate during cold winter months.
If bats choose to hibernate, they will typically select a cave for shelter, but they are also known to enter the home by slipping through accessible crevices, consequently hibernating inside walls and attics.
Since bats are very sensitive to temperature changes, they can often wake during hibernation if there is a big swing in temperature.
If there are bats inside your home, often times one or more can be heard in the walls. Typically this is due to a bat getting lost inside the home. This usually happens when there is a sudden drop in temperature and a bat is searching for a more comfortable setting.
How Cold Can a Bat Survive?
Due to a bat's severe sensitivity to temperature changes, they cannot survive cold weather for very long. If a bat is released into a winter atmosphere they can die within minutes if they do not find shelter.
Do Bats Come Back to the Same Place?
Bats are creatures of habit, so they do repeat the same pattern year after year. Bats will come back to the same place, whether that is in a cave or in the corner attic of your home.
Recently there has been an increase in bats staying in attics due to people increasing the level of insulation they put in their homes.
Currently about 80 percent take shelter in attics.
How Do I Locate and Remove a Bat from my Home?
For many pests, if the situation is mild, there are at home remedies for removal. However, with bats it is best to leave it to the professionals.
Although bats are unwanted within the home, these creatures are an incredible contributor to a healthy eco system so it is important to ensure they are kept safe and alive.
If you do find a bat flying around your home, seal off the room if you can and contact a professional.
Do not release a bat into the cold weather, as they will die within minutes. It is important to contact a professional not only for the bats' safety, but also to ensure human safety, as many bats can carry diseases such as rabies.
Since bats like to colonize in the winter to keep warm, a full inspection of the house is always necessary.
For a full and proper inspection of your home, contact our Kawartha Lakes bat control team.
Dave's Quality Pest Control is the #1 pest control company in Peterborough and the Kawarthas, with a long history of dealing with bats, they apply quick and effective measures.
Dave's Quality Pest Control will perform a full house inspection followed by a safe and humane removal of any bat infestation.
Ensure you have a safe and happy home this winter and contact DQPC for all your bat problems!